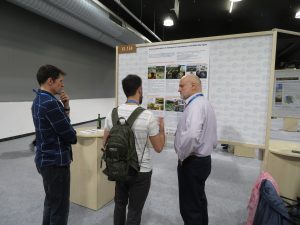 Panu Jalas and Marcus Laaksoharju presented posters of BSUIN project and its related Underground Laboratories participating in BSUIN project in EGU conference.
EGU is European Geosciences Union which organizing every year General Assembly in April in Vienna. EGU covering the full spectrum of the geosciences and the space and planetary sciences.
The EGU General Assembly 2018 had 4,776 oral, 11,128 poster, 1,419 PICO presentations and 666 unique scientific sessions together with 68 short courses and 294 side events. At the conference 15,075 scientists from 106 countries participated. From BSUIN organizations participated University of Oulu, Swedish Nuclear Fuel and Waste Management Co and Tallinn University of Technology.
The posters presented in the EGU General Assembly: