Have you taken a lift 150 meters underground? Have you seen any old mine, walked through tunnels, squeezed yourself through small holes? If yes, then you can relate to the extreme experience that some of the Baltic Sea Underground Innovation Network (BSUIN) project team members and associated partners had.
Reiche Zeche is an old silver mine in Freiberg, Germany. It was a great benchmarking place having a long history in mining, education, research and guiding visitors.
-It truly was an interesting tour. We learned about fascinating research projects of real time mining and bioleaching, says Taina Vuorela from the Oulu University of Applied Sciences in Finland. She was very pleased to experience also the historical aspect of the tour.
-Taking the longer tour was an extreme sports experience as well, Vuorela smiles.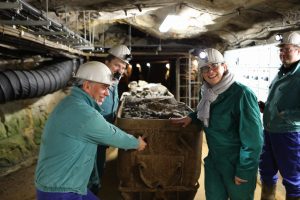 Happy visitors underground clothed properly for the tour.